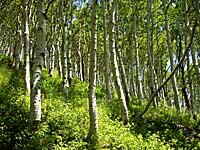 This would be my first big hike since breaking my hand on May 2. I Started up Pitkin Creek Trail at 10:45, later than I'd planned. Gotta get up earlier! Steep bushwhacking toward the ridge above Pitkin Creek and Booth Creek off the trail after about 15 minutes, I found the grass to be a lot taller than I was expecting and was having second thoughts about climbing the ridge to Outpost Peak, but pressed on. (Memorial Day weekend, I had climbed this route to about 10,000 feet and the grass was not a problem.)
After taking a snack break about every hour, I found myself (mostly) above tree line after about three hours with a good way to go to the summit which I could now see. Having expected to be on top in three hours, I was already debating about making the summit since it looked to be quite a way to go. Deciding to go at least a little farther to find a good spot on the ridge for a panorama, I covered half the distance to the summit since breaking out of the trees.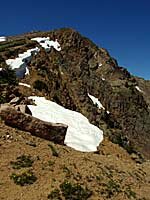 With the peak so close, I really had to convince myself not to go for it but since it was already 3:00, I put down my pack at a nice spot on the ridge and shot a panorama photo. While taking pictures, I kept looking at the summit disappointed that it was only about 45 minutes away and that I'd probably never be back to try again. At 3:20 I strapped on the pack and headed down. Sometimes you have to turn back short of your goal. I've done it before and I will again.
Walking steadily down through the forest I began to realize that there were lots of deer that were seeing me first and scrambling off, allowing me just a glimpse of their amazing spring-like running. They easily jump six or eight feet with all four feet off the ground.
Back to the 10,000 foot level, I reached the edge of a rock outcropping and shot a couple of photos of the Grand Traverse. Momentarily, I scared an Elk which had until then been silent just below the rock ledge. She scared me as much as I did her when she started to bolt but for some reason stopped, just to look at me. She then started "barking" at me. Over and over she made this loud noise that I don't know the proper word for. Gradually I made my way off the rocks and proceeded down the hill again. Soon after, I noticed another repeating sound a ways off which I finally figured out must be the sound of crying coming from the elk's new calf. I never saw it, nor came close, but figured out that must have been the reason for momma elk barking. She must have been saying "go away."
The downhill bushwhacking through the high grass below 10,000 feet was very difficult and I was dead tired when I finally got to the car at about 6:30 and was glad home was only a few blocks away. Sore thigh muscles and blisters the next day reminded me that a climb of 4000 feet is too much for the first good hike of the season, even though I thought I was ready after my activity in Utah in April, and again on Memorial Day weekend. Oh well. One more note; my left hand swelled quite a bit with the altitude gain. Guess it wasn't healed yet.