This was the longest day-hike I had taken in some time. It's a big loop in the southern part of Flat Tops Wilderness, climbing Shingle Peak Trail and returning via Turret Creek Trail. I left home at 7:30 and reached the Hill Top trail head at 9:00. It's reached via the dirt County Road 150 which goes to Sweetwater Lake, north of Dotsero. The road is fine for two-wheel drive cars until it narrows past the lake and climbs a steep hill the last 200 vertical feet to the trail head. My car made it but if I go back, I think I'll walk that last section. On my map, this trail head was shown as Turret Creek Trail but when I got there, the sign said Hill Top Trail Head. The folks who make the maps don't make the signs. This could be confusing but I knew I was in the right place at the end of the road.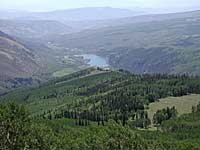 The climb up Shingle Peak trail is steady for 2600 vertical feet. It was dry, dusty and there was absolutely no one else on the trail. There was lots of horse poop so it seems this trail must be popular for riding but I didn't see anyone. I can't imaging convincing a horse to climb this trail; there's no water anywhere. The views behind are nice but it was smoky from western forest fires so I didn't take many pictures, except a few to show Sweetwater Lake.
At about 10,600 feet (three hours in) the trail flattens out a bit and continues over rolling terrain. I passed Turret Peak on the right and wanted to climb it but decided the remaining distance of my planned loop prevented it. Shortly after, I passed the trail that goes west to Rim Lake and briefly considered going that way and returning via Rim Lake and Sweetwater trails. At about 1:30, I reached the turn onto Turret Creek trail which continues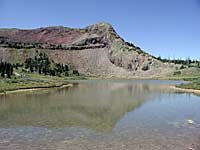 to climb, next to Shingle Peak, passing two spring-fed ponds. It was two hours plus, from 10,600, past Shingle Peak to 11,222, the point where I finally turned down. I took note that five and a half hours of uphill before turning for home is a bit much for a day hike.
Finally, as I was turning downhill near the junction of Turret Crescent Trail, I saw several people working their way up Shingle Peak several hundred yards away. I was somewhat relieved that there was actually somebody else around, since I hadn't seen anyone all day. Ten or 15 minutes down the trail I came across 16 backpacks left on the trail by the climbers.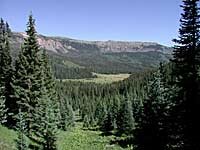 I found a good source of water soon after turning down Turret Creek Trail. It was hotter than I had expected and I had already used all two liters of my water and had to fill up from a creek at just under 11,000 feet. The scenery was much nicer on the way down Turret Creek than it had been all day. It was a very long gradual descent and as evening approached I was fortunate to see two deer while I had the camera handy. This was rare! Since I don't often see wildlife, especially with my camera ready, I was happy. I drank most of a liter of the stream water on the way down. Fortunately I avoided the dreaded Giardia since I found the water so high. I was back to the car at 6:40 with about an hour and a half of daylight to spare. Long day.
I would likely never hike Shingle Peak Trail again. It's good at the top but Turret Creek Trail is so much nicer I think I would prefer to take it in both directions, should I ever want to climb Shingle Peak. Click here for more photos.